Luxury Computing
So I bought a Mac in early December because my new job at Mozilla involves making cross-platform software for Macs, Windows, and Linux.
Intel-based Macs are pretty much the best choice for this at the moment—almost everyone at Mozilla uses one—because you can use OS X natively, and Windows and Linux through virtualization software like VMWare Fusion.
My opinion on the whole Macs vs. PCs debate could best be described as "complex". Let's not go into how much I want to punch the Mac guy in the face.
In a nutshell, though, I had always assumed that Macs were only marginally easier to use than PCs. I guess I've found over the past two months that in some ways, this holds true—the Mac is essentially an incredibly sexy-looking PC, with the same annoyances and a few polishes that make it a bit more humane to use. In other ways, however, the difference is truly like night and day.
This is a story about such a situation.

Today I decided, for various reasons, that I would like to plug my USB keyboard and mouse into the USB ports on the front of my PC. They were already plugged into the back of my PC and working fine from there, so this should have been a simple matter of plugging them out of the back ports and into the front ports. To say that doing this ended up being a bit more complicated than it ought to have been is a vast understatement.
For reference, my USB keyboard has a USB hub on it, to which my mouse is plugged in. So only the keyboard's USB cable is plugged into the computer.
After unplugging the keyboard from the back of the PC and plugging it into the ports on the front, a dialog box similar to the one below appeared on my computer.
Except instead of saying "Linksys USB2.0 Network Adapter", it said "USB Human Interface Device" (please assume this is the case for all the screenshots below, too).
The problem was, I couldn't push the "Next" button, because the mouse and keyboard that Windows had apparently "found" weren't yet installed. It was a catch-22: I had to use a mouse or keyboard to navigate a user interface that would allow me to use the keyboard and mouse that I just plugged in. So I ended up essentially unplugging my mouse from the keyboard and plugging it into the back of the computer. This allowed me to use the mouse to install my keyboard.
Wait, it gets better.
After clicking on the "Next" button, I was confronted with a dialog box like this: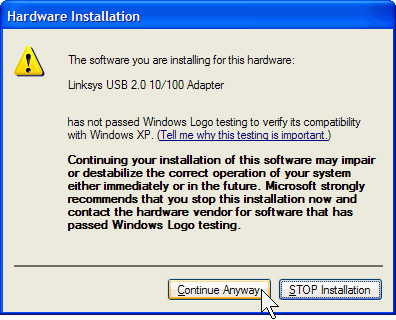 I've always thought this warning was really funny, because I have never actually installed a piece of hardware on my computer that had passed Windows Logo testing. And I'm talking about hardware by top-tier manufacturers like Logitech and Linksys, whose packaging clearly has a Windows Logo on it. Anyways, I click "Continue Anyway".
This brought up another window that looked like this: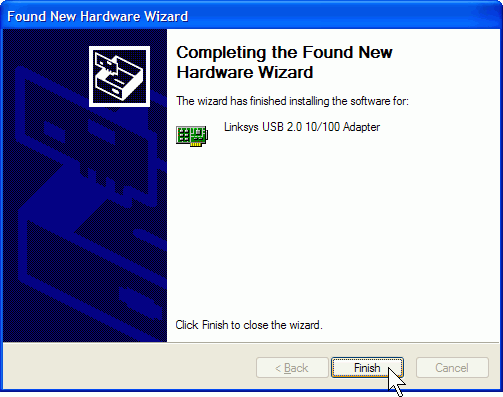 Thanks, Windows. If I had a cookie, I'd give it to you.
Now the funny thing is that I am immediately accosted with another, all-new "Found New Hardware Wizard"—this time it has apparently found yet another "USB Human Interface Device". Either my operating system has short-term memory loss or my keyboard has two USB Human Interface Devices in it (which is funny, because I always thought of it as being just a keyboard).
After going through the same three dialog boxes, the wizard appears yet again; this time it's found a "HID-compliant device", and I have to go through the same song and dance, after which I get yet another wizard for a "HID-compliant device".
After all of this, Windows tells me that my new hardware is installed and ready to use. I then remove the mouse from the back of the computer and plug it into the keyboard again, and I have to go through the same four wizards.
Each wizard required 3 clicks to get through. I had to go through 8 wizards in all, so that's a grand total of twenty-four clicks required to unplug my keyboard and mouse from one side of my computer and plug them into the other side. I'm not actually installing brand-new hardware here.
The first time I had to plug this keyboard and mouse into my Mac, I was floored. In the best-case scenario, I expected it to think for a second or two and then give me a reasonably unintrusive message informing me that I could use my USB mouse and keyboard. That would have been pretty humane.
But it did one better.
The Mac didn't tell me anything, because my mouse and keyboard just worked the moment I plugged them in. When you plug in a power cable or a pair of headphones into a computer, you don't get some kind of confirmation message from your operating system, because it's obviously supposed to just work—why should plugging in a USB keyboard and mouse be any different?
So, like I said, this is one of those places where the usability of my Mac completely trumped and obliterated the usability of my PC. Perhaps Windows Vista is different in this regard—my PC still has XP on it—and if the case, then I'll have to thank Microsoft for being so innovative and forward-thinking.
Sarcasm aside, though. I really hope I never turn into some sort of Mac zealot that would buy Steve Jobs' poop in an off-white plastic case, but I have to admit that when it all adds up, I find my Mac to be significantly easier to use than my PC.
I'll also concede that I find myself physically attracted to my computer in a way I never thought possible.